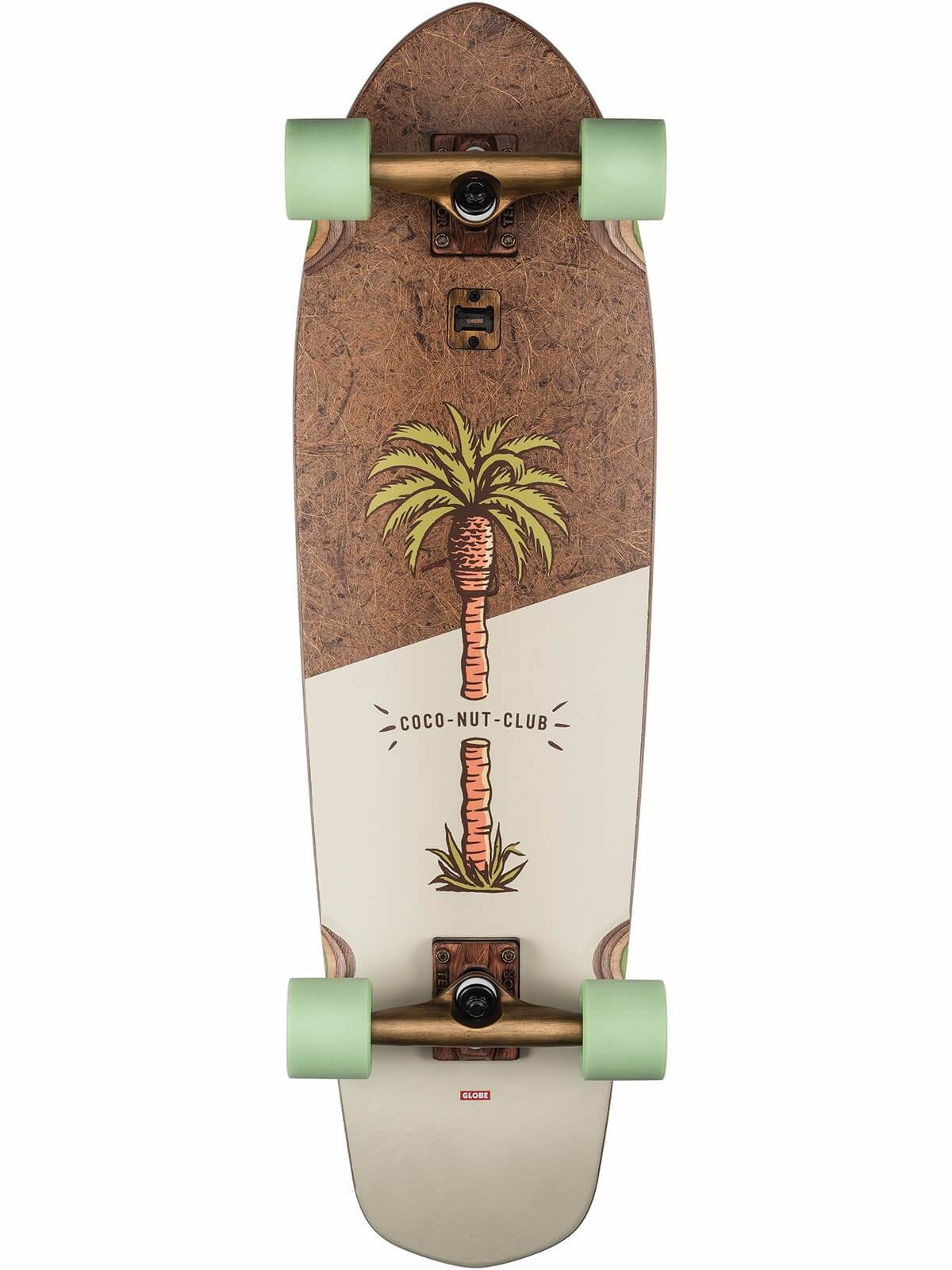 The Big Blazer in colour Coconut/Palm is a GLOBE medium length diamond-tail cruiser with built-in bottle opener and soft conical wheels. It is available in size 32" x 9.125" x 17.75"WB. It is made of Resin-7 hard rock maple. It has a mellow concave with kick tail and 6.0" Tensor alloy wrapped trucks with 62mm 83a wheels. It features a printed griptape.
COCONUT CONSTRUCTION

+ ECO-FRIENDLY

The natural coconut fibers found on these boards allow us to use less maple wood for an eco-friendly deck that leaves a smaller carbon footprint. Coconuts are readily available, the husk requires minimal processing and they come from self-sustaining crops.

SLANT REVERSE KINGPIN TRUCKS

+ GUARANTEED FOR LIFE

Typically used on models greater than 34" long Reversible 50/54° hangers. 50° for stability at high speeds. 54° for tighter, more responsive turns.

ABEC 7 BEARINGS

+ LESS PUSHING, LONGER ROLL

Standard on every complete, Globe Abec-7 bearings spin faster and longer which means less effort and faster.

SUPER HIGH-REBOUND BUSHINGS

+ VERSATILE PERFORMANCE

Our high-rebound 92a durometer bushings are used in a variety of shapes across the line to match the functionality of each board.

PERFORMANCE WHEELS

+ FASTER SMOOTHER GRIPPER

Globe's high-rebound urethane formulas are abrasion resistant, smoother, faster, and provide excellent grip.
Artikelnummer 37093
Related Products